Thanks to the grace of Mahaprabhuji and Vishwaguruji, the Alexandria Ashram was thrilled to welcome the esteemed Swami Uma Puri for almost five weeks, with the Atlanta Ashram hosting her also for four days of programs. It was a lively time with many special classes and events organized for bhaktas and practitioners. It was also a deeply spiritual opportunity for divine practices and pujas, and the energy and wisdom of our Gurudev's close long-time disciple.
Shivaratri
Joined by Sadhvi Prempuja Puri from Atlanta, S. Uma Puri led a beautiful Shivaratri observance with a talk about its significance for seekers, plus singing of wonderful bhajans and spiritual songs in English, Shivalingam puja with chanting of the Mahamrityunjaya Mantra, evening prayer, and special Prasad of kheer. Bhaktas and yoga students attended and savored the joyous feeling of the evening.
Mantra Anusthan
S. Prempuja and Alexandria disciples were blessed to participate in a 24-hour Mantra Anusthan led by S. Uma Puri. In addition to hours of mantra japa, this beautiful and profound experience included fasting and the breaking of the fast, a brief outdoor walking meditation, and a little rest granted by our wise and generous leader.
Courses on Yoga for Healthy Joints and Yoga for a Healthy Back
The Alexandria Ashram offered for the first time ever, the YIDL course on Yoga for Healthy Joints, taught twice weekly by S. Uma Puri. Three teachers and a number of students attended and learned the new movements and postures from a master teacher. Umapuriji's deep knowledge of orthopedic care, massage therapy, and physical therapy infused the course with expertise about the health of our joints. This expertise also benefited students in her Yoga for a Healthy Back class where she helped practitioners to understand the use of yoga as therapy for back pain.
Self-Inquiry Meditation
S. Uma Puri led a divine 5-week class in Self-Inquiry Meditation, teaching participants to find motionlessness and comfort in their posture, awareness of body and breath, observation of their thoughts and "how they are" inquiry into the Self as taught by Vishwaguruji, and gradual stillness of mind.
Guest Teaching
The entire YIDL Alexandria community was able to learn from S. Uma Puri's 30 years of YIDL teaching experience due to her generous attendance, observation, and teaching in each and every class at the Ashram, benefitting the classes of kids, Seniors, and of all YIDL system levels.
Vegetarian Cooking Workshops
The Ashram kitchen was full of eager cooks and eaters who learned how to make some of Vishwaguruji's favorite foods: chapatis, Mahaprabhuji's soup, dal, subji, and other dishes prepared in two three-hour workshops led by master chef S. Uma Puri. Participants who were previously unfamiliar with vegetarian cuisine became inspired by the delicious taste and beautiful appearance of the meals we prepared and shared together, not to mention the fun we had.
Atlanta YIDL Programs
S. Uma Puri traveled to Atlanta, Georgia for five days of programs at the Yoga in Daily Life Ashram there, teaching about pranayama and asanas and the fruits of practice – harmony of body, mind and soul. The program included workshops on therapeutic yoga, Satsang at the Shiv Temple of Atlanta (see photo) on the subject of Hatha Yoga, and beautiful nature walks.
Shank Prakshalan
A master of Hatha Yoga Kriyas, S. Umapuri led a Shank Prakshalan Spring detoxification and purification practice for a group of six disciples, including two bhaktas who visited Alexandria from San Francisco – Amrit Sagar and Mira.
Teacher Workshop
Teachers gathered for an inspiring two-hour workshop with Umapuriji toward the end of her visit, to receive the benefit of her observations and recommendations for YIDL classes in Alexandria. She movingly spoke to us of our mission to support and serve each and every student to the best of our ability.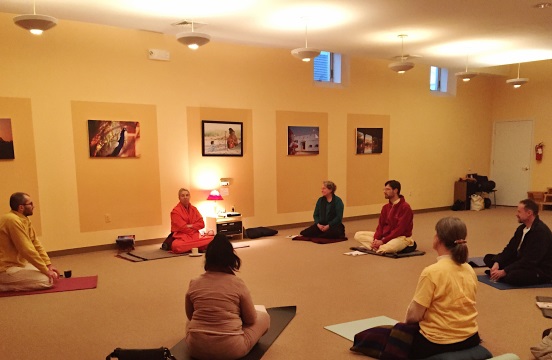 Holi
The moon of Holi coincided with our Farewell Satsang for S. Uma Puri, who organized a celebratory bhandara with pot-luck dinner, preceded by a slide-show of the Ashrams in India. With her considerable story-telling skills, she recounted for us the ancient story of Holi and its illumination of the triumph of good over evil.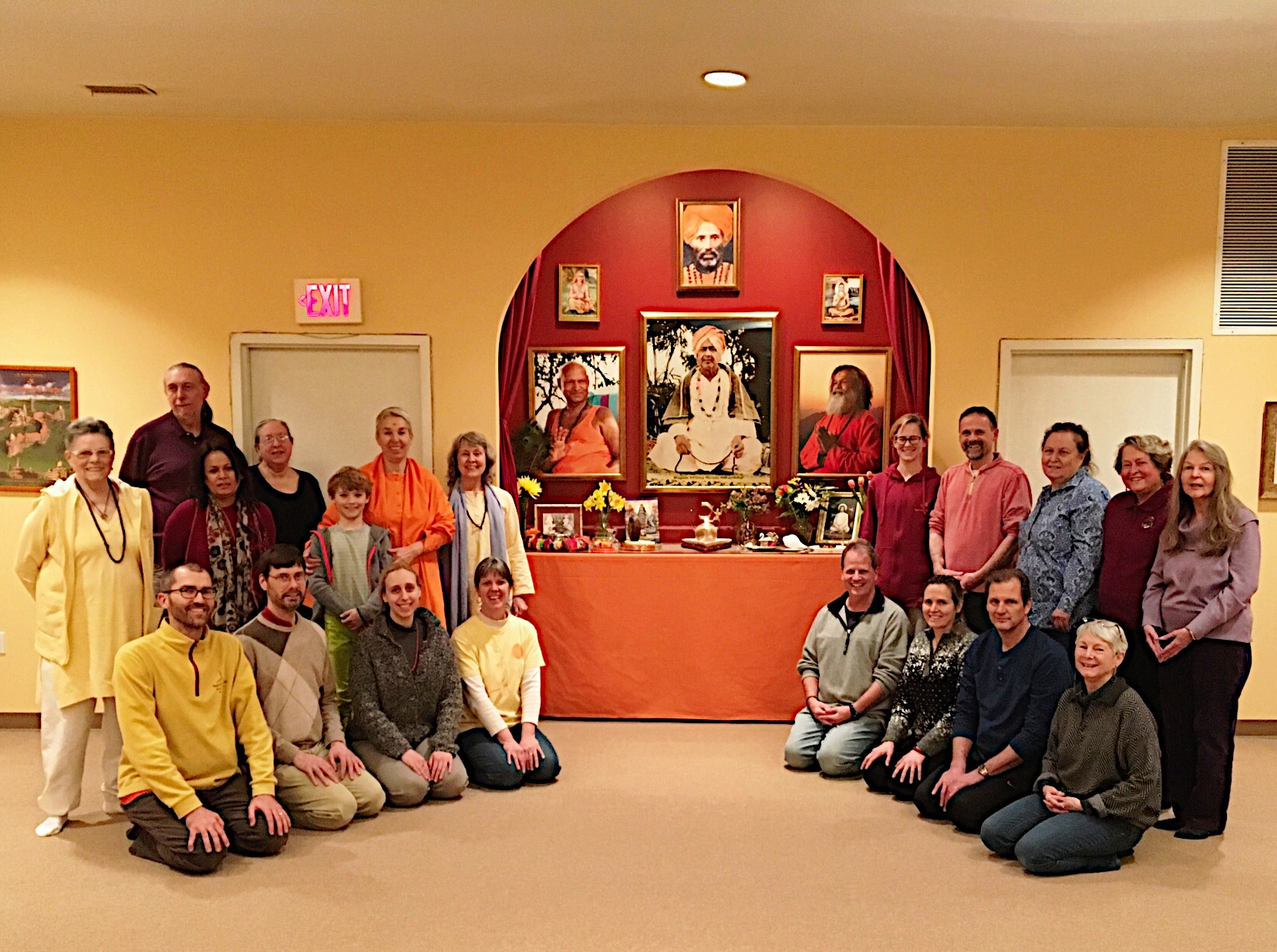 S. Uma Puri captured our hearts! We will miss her greatly and hope for another visit soon. Asked her thoughts about the visit, she wrote these words: "With the blessings of Almighty in the physical form of Gurudev, it was possible to serve our Alexandria and Atlanta Ashrams. A few words about these times are – 'friendship, love, understanding, warmth.' If I could, I would embrace all of you forever in my heart, THANKS!"